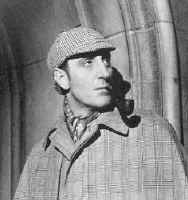 Philip St. John Basil Rathbone's life began on June 13, 1892, in Johannesburg, South Africa. In 1895 his family had to flee to escape the Boers because Rathbone's father was accused of being a British spy. In his autobiography Rathbone admits that he doesn't know whether or not his father really was a spy–he had never asked his father! What is known is that his father, Edgar Philip Rathbone, was a mining engineer, and his mother, Anna Barbara Rathbone, a violinist. Basil was the eldest of three children. He had a younger sister Beatrice and a younger brother John.
Rathbone grew up in England and attended the Repton School* from 1906-1910. More interested in sports than studying, Rathbone (called "Ratters" by his friends) excelled in sports. While at school, he developed a love of the theater. When he left school, he told his father he wanted to make the theater his profession. His father persuaded him to agree to work for one year at an insurance company (and hoped that Rathbone would forget about the theater.) After the obligatory year, Rathbone visited his cousin Frank Benson, an accomplished actor and manager of his own company. Cousin Frank gave him a job, but did not bestow favors upon him. Rathbone had to learn acting and earn the good parts. Rathbone started acting in the No. 2 company, but by 1913 he had been promoted to the #1 company and was playing all the juvenile leads.
Marriage
While acting in various Shakespeare plays with Frank Benson's company, Rathbone met and fell in love with a fellow performer, Marion Foreman. They married in October of 1914, and the following July their son Rodion was born.
Early in 1916 Rathbone left the stage to join World War I. He last saw his mother when he said goodbye to her at Victoria Station. She died in 1917
Early Career
After his return from WWI, Rathbone's theatre career picked up and he performed in Stratford on Avon, and in London. His marriage, however, broke up. Rathbone chose not to reveal why this happened–it just did. He left Marion and set up house on his own. Although he was not making much money, Rathbone struggled to pay for two households. He did not want his wife and son to suffer financially because of his decision to leave them. During this time Rathbone wrestled with a sense of guilt with regard to his son. He writes: "Self-condemnation fought bitterly with self- justification, and there was no one to turn to and talk with about such intimate personal matters. … my son was missing his father." (In and Out of Character, page 17)
Henry Daniell (who later played Moriarty in "The Woman in Green," one of the Sherlock Holmes films) was a fellow actor at that time. Rathbone acted in many Shakespeare plays then, and loved many different women.
New York
The next phase of Basil Rathbone's career began in 1923, when he came to New York City to perform in "The Swan." In November of that year, Rathbone met Ouida Bergere, a scriptwriter. They fell in love and made plans to marry. Before that could happen, however, Rathbone needed to get a divorce from Marion Foreman. He traveled back to England for that purpose, and also saw his father for the last time. Rathbone's father died on June 13, 1924.family3.jpg (49371 bytes)
Basil and Ouida were married on April 18, 1926, in New York. Their marriage was by all accounts a very happy one, and lasted until Rathbone's death in 1967. They shared a love of reading books and watching boxing. Both of them thought that Sugar Ray Robinson was wonderful. Basil was also a baseball fan and an enthusiastic golfer. Although he tried, Rathbone never succeeded in getting Ouida interested in golf.
moritz1.jpg (47759 bytes)The Rathbones also shared a love of dogs. Pictured to the right is Basil with his favorite dog Moritz. In his biography of Basil Rathbone, Michael Druxman relates an amusing story about Moritz: "One evening, Rathbone was walking with the dog along New York's 46th street, when Moritz, unable to find a lamp post, decided to relieve himself on the leg of a woman pedestrian. Basil, red-faced and at a loss for words, could barely sputter out an apology. Luckily, the woman was so impressed at meeting Basil Rathbone, that she told him to forget the whole matter and went on her way." (Basil Rathbone: His Life and His Films, page 25-26)
From Theater to Films
During the 1920s most of Basil Rathbone's work was in the theater. Many of his Broadway roles were that of the suave, sophisticated seducer of women–so different from the Baker Street detective he played later in his career! One of these plays, "The Captive," caused Rathbone to be arrested. Rathbone was cast in the role of Jacques, a young man engaged to be married. In the play Jacques discovers that his fiancis in love with someone else–a woman! Since homosexuality was such a controversial topic during the 1920s, the entire cast was charged with offending public morals, and the play was closed. The charges were eventually dropped, but Rathbone was very angry about the censorship. He and many others involved with the play felt that "The Captive" was a great play, which addressed an issue important to society, something people needed to know about.
Rathbone made eight films during the 1920s. "The Last of Mrs. Cheyney" was a great success in 1929 and made film producers sit up and take notice of Rathbone. He was in demand for several films after that and also continued to do stage plays in the early 1930s. Rathbone made seven films in 1930 alone! He also made three films in England during 1933. The Rathbones and their seven dogs finally moved to Hollywood in 1935.
The Hollywood Years
The Rathbones gained a reputation for throwing lavish (and expensive!) parties, which the biggest stars in Hollywood attended. At one such party Errol Flynn got drunk, followed a young lady home and passed out on her living room sofa. Later that night, the woman's father brought the unconscious Flynn back to the Rathbone's house and dumped him on the lawn.
"The next morning, Basil and Ouida were having breakfast on the patio, when the gardener turned on the sprinklers. Who should spring up from the grass, but a hung-over Errol Flynn. The Rathbones sat–mouths agape–as Errol bid them a cheery 'Good morning,' then departed for home." (quoted in Basil Rathbone: His Life and His Films, page 21)
Rathbone made many great films during the 1930s. In most of them he played the role of the villain, including one of his best-known roles: Sir Guy of Gisbourne ("The Adventures of Robin Hood"). The swashbuckling adventure roles were the most fun for Rathbone, and he trained to become an accomplished swordsman. "I enjoyed swordsmanship more than anything because it was beautiful. I thought it was a wonderful exercise, a great sport. But I would not put it under the category of sport; I would put it under the category of the arts. I think it's tremendously skillful and very beautiful. . . . The only actor I actually fought with on the screen was Flynn, and that's the only time I was really scared. I wasn't scared because he was careless but because he didn't know how to protect himself." (quoted in Castle of Frankenstein, 1969 issue, pages 31-32)
During his film career, Rathbone was twice nominated for an Academy Award in the category of Best Supporting Actor. One was for the role of Tybalt in "Romeo and Juliet" and the other was for the role of the King in "If I Were King." Both times the award went to Walter Brennan instead of to Rathbone.
In the late 1930s, Rathbone's son Rodion joined the family in Hollywood. Ouida had made friends with Rathbone's first wife and sought to reunite father and son. During the two years that Rodion lived with them, he and his father became close. Rodion even appeared in two films with his father: He played the role of Russell (a young pilot) in "The Dawn Patrol" and Lord DeVere in "The Tower of London." When Britain entered WWII, Rodion returned to England to serve in the military. Rodion, Ouida, and Basil
family5.jpg (15561 bytes) In 1939 the Rathbones adopted a baby girl named Cynthia. By all accounts, Rathbone was a very devoted father and spent a lot of time with his daughter. When Cynthia was older she even accompanied her father on his summer stock tours.
Read the rest of Basil Rathbone Biography HERE