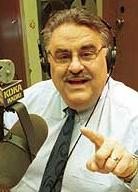 KDKA Radio talk show host Fred Honsberger died Wednesday morning at his home in Monroeville. He was 58.
Honsberger began working at KDKA in 1979 as a news anchor and reporter on the night shift and as a newsman for John Cigna and Roy Fox. He became KDKA Radio's news director in 1984, a post he held through 1989, when he became a talk show host. This year, he hosted the station's afternoon show from noon to 3 p.m. weekdays. His last show was Dec. 8.
"We couldn't be more proud of the work Fred has done as a dedicated broadcaster over the past three decades," CBS Radio President and CEO Dan Mason said in a prepared statement. "His love for, and dedication to his listeners in Pittsburgh cannot be duplicated. Our sincere condolences go out to Fred's family."
Honsberger's name was well-known in the industry far beyond Pittsburgh, said Michael Harrison, publisher of Talkers, a radio industry trade publication based in Springfield, Mass.
"He's recognized by people in the industry all across the country as one of the great local talk show hosts," he said. "You lost an icon."
Such local personalities as Honsberger are increasingly rare in an era in which more and more radio stations are turning to nationally syndicated programming for content.
"He represented the best of an era when every market had an array of local talent," Harrison said. "He was definitely an endangered species."
Funeral arrangements are pending.
taken from: