Will Kim Kardashian win her bet with Reggie Bush and get married if the New Orleans Saints win the Super Bowl?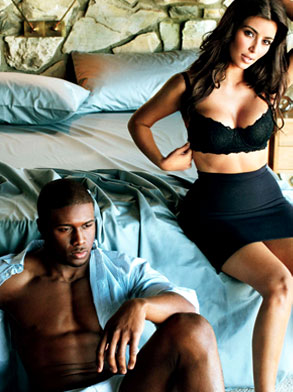 Kardashian and Bush were dating, and then were not, and now are again. Kardashian attended the NFC divisional playoff game in New Orleans as Bush's Saints played the Cardinals and was shown several times on television standing and cheering for her boyfriend from what appeared to be a private box.
In the days leading up to the game, Kardashian told a radio host on Citadel Interactive that she and Bush have a bet, of sorts, on the Super Bowl. It seems that Kardashian wagered Bush that if the Saints were to win the Super Bowl, then he needs to propose to her and get married.
If Kardashian and Bush were to get married, Bush would be merely the latest high profile athlete to marry into the Kardashian family. Kardashian's mother is married to Olympic gold medal winner Bruce Jenner and her sister Khloe is married to Los Angeles Laker star Lamar Odom.
If the New Orleans Saints advance to the Super Bowl, the Bush and Kardashian romance will become even higher profile than it already is and provide yet another reason for the casual, or even non-fan, to follow the NFL..exactly what every professional sports league needs to grow its audience and capture television ratings.
For her part, Kardashian knows all about living her life in the national spotlight. Her late father, Robert Kardashian, was one of OJ Simpson's defense attorneys in his 1994 murder trial. As mentioned, both her mother and her sister have married high profile athletes. In addition, most of her family was featured on the "Keeping Up With the Kardashians" television show. And Kim Kardashian herself was featured in Playboy and had a sex tape leaked with former boyfriend, rapper Ray-J that millions watched.
Through it all, it seems Kardashian's star only gets bigger…even as the face of the modern day phenomenon of people being famous for being famous. It would seem that Kardashian's star could not possibly get bigger than it already is based on this concept.
But there is nothing quite as big in American pop culture as the Super Bowl. If the Saints advance to the Super Bowl, they will do so with Bush as one of their best players. His high profile girlfriend will surely be front and center on the television cameras and gossip columns as the woman who might just marry Reggie Bush. Whether their 'bet' is a serious one or not remains to be seen, but America will be hearing a whole lot more about it if the Saints continue to advance through the playoffs and ultimately to the Super Bowl.
Who knows. Instead of the star player walking off the field at the end of the game and saying, "I'm going to DisneyWorld", this year it could be Reggie Bush saying, "I'm marrying Kim Kardashian!".
taken from: