texas rangers, josh hamilton, tampa bay rays, rays, texas rangers baseball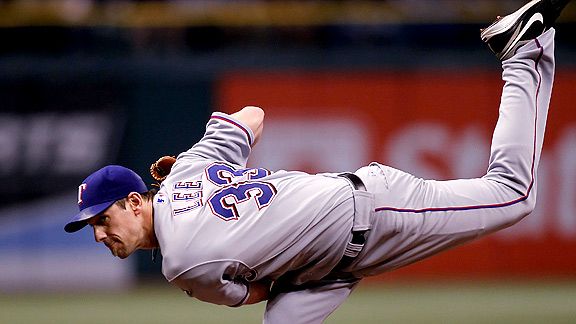 Getty Images
Lee Lifts Rangers To 1st Playoff Series Win
Cliff Lee added another impressive line to his growing October resume, putting the Texas Rangers on his back and carrying them into the AL championship series for the first time. Lee tossed another postseason gem and Texas won a playoff series for the first time, beating the Tampa Bay Rays 5-1 Tuesday night in a decisive Game 5 on the legs of some daring baserunning. Lee struck out 11 in a six-hitter for his second win over David Price in a series in which the road team won every game -- a first in major league history.
Report: Bears' Cutler Back; Collins Now No. 3
The Bears will try to restore order to their quarterback situation heading into Sunday's game against the Seahawks. Jay Cutler has been cleared to practice fully on Wednesday after suffering a concussion and missing last week's game against the Panthers, the NFL Network's Jason La Canfora tweeted. Barring a setback, he will start against Seattle. Also, Caleb Hanie's brief appearance against the Panthers coupled with a horrid outing by veteran Todd Collins provided sufficient evidence for another change to be made on the Bears' quarterback depth chart. According to multiple NFL sources, Collins will be be demoted after he threw four interceptions and finished with a 6.2 passer rating. Hanie will be the No. 2 quarterback, according to the sources.
Jenn Sterger Seeks 'Proper Resolution'
As the NFL continued its investigation into allegations that Vikings quarterback Brett Favre sent inappropriate messages and photos to a former New York Jets employee, the woman's manager issued a statement saying the proper resolution of the situation was more important than dealing with it quickly. The NFL is aggressively investigating allegations that Favre sent inappropriate messages and photos to former Jets employee Jenn Sterger, a source familiar with the league's review told ESPN senior NFL analyst Chris Mortensen.
Report: Braves Hire Gonzalez To Succeed Cox
The Atlanta Braves have hired former Florida Marlins skipper Fredi Gonzalez as manager, two sources told the The Atlanta Journal-Constitution on Tuesday. Longtime Braves manager Bobby Cox retired Monday after the Braves were eliminated from the playoffs by the Giants. Cox will have a press conference at Turner Field on Wednesday and Gonzalez will be introduced on Thursday, according to the paper.
Report: Ex-Agent Admits Paying College Players
Former agent Josh Luchs tells Sports Illustrated he paid college football players in an attempt to gain clients early in his career. Luchs estimates he paid more than 30 players from 1990-96, including former No. 2 pick Ryan Leaf. Leaf declined comment to the magazine. Seven former players confirmed taking money from Luchs. Others, such as Jets receiver Santonio Holmes, denied Luchs' story. Luchs also says that other agents use media contacts, including ESPN draft insider Mel Kiper Jr., to help recruit players. Kiper denies playing any role in recruiting players, and says, "Conversations with players, which are occasionally facilitated by agents, are a valuable way to get to know the players. These conversations have never compromised my integrity, and my 32-year record supports that."
Wade Healing, But Preseason Return In Jeopardy
Technically the Miami Heat got some good news about Dwyane Wade's hamstring Tuesday. But in the short term, they also realized the possibility that the next time he plays could be in the season opener in Boston in two weeks. A week after tweaking his right hamstring while coming around a pick in the preseason opener, Wade is indeed feeling better. But coach Erik Spoelstra said Wade likely won't start basketball activities for another week, putting him in jeopardy of missing the Heat's remaining preseason games. If that is the case, the Heat's star-studded lineup may face the Celtics with just over three minutes of game action together.
NFL Power Rankings: Week 6
The Steelers remain the top team in the NFL Power Rankings on ESPN.com, but it's another AFC North team that is on the move. The Ravens, now 4-1 on the season, move from 6th to 2nd overall, with the Jets and Falcons hot on their heels. The Saints drop 7 spots to number 9 after their loss to the Cardinals.
Cincy Police Chief Apologizes To Bengals' Jones
Cincinnati's police chief is apologizing to Cincinnati Bengals cornerback Adam "Pacman" Jones, who was questioned by officers on Sunday. Chief Tom Streicher said at a news conference Monday that the police department made a mistake and that Jones did nothing wrong. The chief calls the episode unfortunate. Police said Jones was questioned after he drove his vehicle over a downtown curb to avoid
http://espn.go.com/blog/sportscenter/post/_/id/86104/in-case-you-missed-it-the-day-in-sports-245