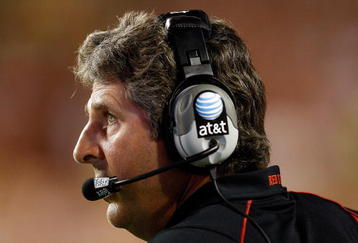 Mike Leach being fired looked impossible a year ago. Yet Mike Leach is fired today, though that may be the beginning of this saga. The Texas Tech football coach was the toast of college football a year ago, with an explosive new offensive style and big wins. A year later, Leach is facing massive criticism, for alleged mistreatment of a injured player - who has major family connections. But even with Mike Leach fired, Texas Tech is not done dealing with him yet.
Last weekend, Leach was accused of locking a player in a dark room on two separate occasions, because he couldn't practice with a concussion. What's more, the player was Adam James, son of ESPN analyst Craig James. Once the family made their complaints public, Leach has been under fire ever since.
First, Texas Tech suspended him for the upcoming Alamo Bowl against Michigan State - which Craig James was supposed to call from the ESPN booth. Then, Leach used his lawyers to file a restraining order against the school, so he could coach the game. He also prepared for the possibility he would be fired - which Texas Tech has now done.
Leach is fired just 11 months after signing a five-year extension, which he earned with an 11-2 breakout year in 2008. He was also due an $800,000 bonus if he was still coaching on New Years Eve - and he was entitled to more money if he was fired before his contract ran out. Therefore, the motivations of Texas Tech have come into question, almost as much as Leach's alleged actions.
CBS Sports also posted e-mails from other players, in which they accuse Adam James of being "lazy and entitled." Leach has also accused Craig James of acting like "a Little League dad" While Leach and the James family go on a "he said, she said" spree, it appears that the formerly hot Texas Tech coach will be unemployed either way.
It doesn't pay to have a big year in the Big 12 nowadays, as recent events have shown. Leach was the Big 12 coach of the year in 2008, and has been fired a year later. This comes after Kansas coach Mark Mangino, who also had a breakout year in 2007, was also fired for alleged mistreatment of players. Combined with Urban Meyer's leave of absence, college football coaches have become a bigger story than their players, even during bowl season.
The fall of Mike Leach comes after 10 years as a Red Raiders coach, and after he was just proclaimed as a visionary offensive mind. But Texas Tech merely finished 8-4 this season, with rumors surrounding Leach's conflicts with the administration, even before this scandal. So Leach has either got what he deserved or been railroaded, depending on who one asks.
Since lawyers are now involved, this story is likely far from over. But its unlikely that it will end with Leach getting his job back - unless he has a plan as intricate as one of his big plays.
taken from: