Last year, there was Bikini Girl.
This year, there's General Larry Platt.
Each season, American Idol airs the audition of an outlandish contestant that gets cataputed into the spotlight for approximately 15 minutes. Rarely is that individual 62 years old and singing about his pants on the ground, however.
But that's exactly what took place in Atlanta last night, as a man that referred to himself as "General Larry Platt" (pictured) caused the judges to crack up with a single that included the lyrics:
Pants on the ground
Lookin' like a fool with your pants on the ground
With the gold in your mouth, hat turned sideways
Pants hit the ground, call yourself a cool cat
Lookin' like a fool, walkin' to the town
With your pants on the ground!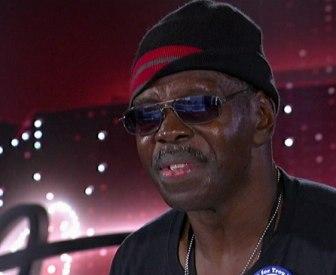 Is it wrong that the show ended the episode with this man, as opposed to one of the truly talented singers that received a ticket to Hollywood, such as Keia Johnson, Jermaine Sellers, Mallorie Haley, Bryan Walker? Nah, it's just American Idol!
Visit our friends at TV Fanatic full a detailed rundown of the evening - and watch the General's performance of "Pants on the Ground" below.
thehollywoodgossip