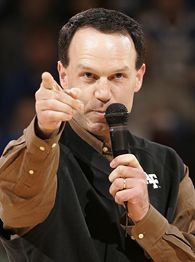 Tennessee is hoping to have head coach this weekend. The two coaches became a primary choice in the top list, are Air Force's Troy Calhoun and Duke's David Cutcliffe.
Both coaches have had discussions with Tennessee officials, and Tennessee athletic director Mike Hamilton has a history with both coaches.
Cutcliffe was the offensive coordinator at Tennessee on two different occasions before getting the Duke job. Calhoun was a finalist for the Vols' head job when Lane Kiffin was hired, and at least one of the members of the Vols' search party at the time had Calhoun No. 1 on his list. Calhoun also has NFL coaching experience, which works in his favor with Tennessee.
Calhoun has a team meeting scheduled for later today, so we'll see how that pans out.
Hamilton knows he needs to have a coach in place before recruiting kicks back into full gear this Sunday.
sources: http://espn.go.com/blog/sec/post/_/id/8213/cutcliffe-calhoun-on-vols-list